FMB965 – NEW VEHICLE GPS TRACKER FOR MOTORCYCLES
#teltonikatelematics, #corporatenews, #product
March 31, 2022
Today we are especially proud to announce the launch of the brand-new Teltonika vehicle GPS tracker model - FMB965 with a few distinctive features to stand out from the crowd, provide competitive benefits and, of course, create value.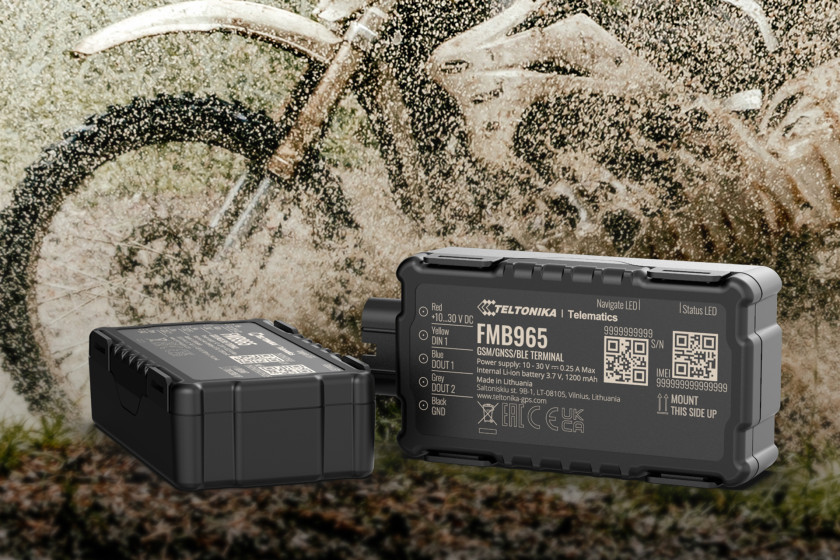 Thanks to its large internal backup battery, the device can operate autonomously and monitor data for up to 30 days. Even more, the compact waterproof casing helps to expand business opportunities and a portfolio of rewarding projects for transport fleets such as motorcycles, scooters, motorbikes and quad bikes, trailers, SUVs, ATVs, motorboats, small-scale fishing vessels, jet skis, hovercrafts, snowmobiles, etc.
Various market studies show that nowadays it is not only fleets of passenger cars or heavy-duty and utility vehicles that are important to be monitored and managed efficiently. In developing countries, the use of two-wheelers is mainly due to their relatively low cost, while in developed countries the use of this type of transport reflects the optimisation of the vehicle fleet and new opportunities for efficient operations.
BATTERY DRAIN IS A THING OF THE PAST
This easy-to-fit FMB965 model with a built-in 1,200 mAh internal backup battery and newly introduced 'Power Off Sleep Mode' can send tracking data for up to 30 days on a single charge! Thanks to this novel feature, the power consumption is less than 1 mA while data is sent every 4 hours. Now you can rest assured that the batteries of a motorcycle fleet will not run down, and managers in charge will get tracking data even if the bikes are not used for a longer time.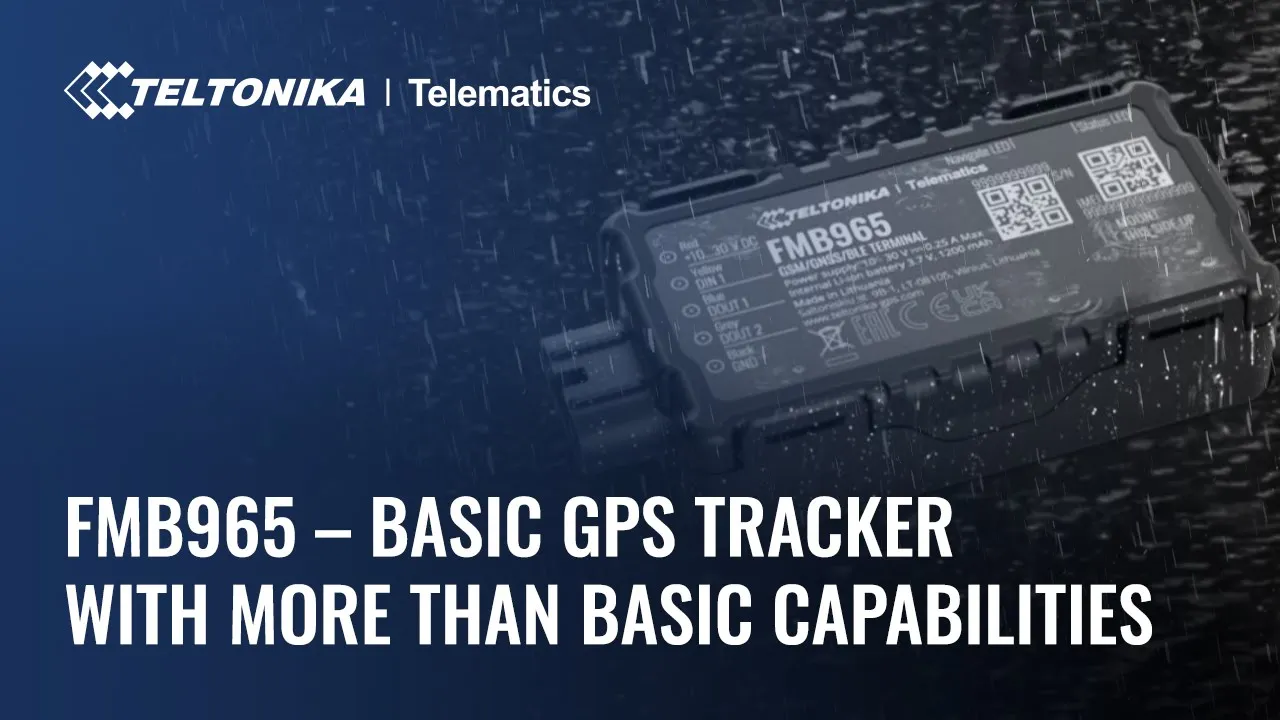 INNOVATIVE CASING 'CLIP-ON' SYSTEM
The specially designed robust casing with the innovative 'Clip-On' system requires no tools to open or close it. In addition, an integrated gasket ensures the durability of the device and its resistance to water and dust which is vitally important for open type transport like two-wheelers. This helps to keep the reputation and profits intact of telematics service providers and integrators.
The new FMB965 has been rigorously tested for harsh climatic conditions and is IP67-approved. In short, it is easy to use, quick to install, and reliable to track.
BUT THERE IS MORE...
The FMB965 is a BASIC category GPS tracker with more than just basic capabilities. Thanks to its reasonable pricing, accuracy and rich set of features, such as quad-band 2G and Bluetooth LE connectivity, flexible inputs and outputs, accelerometer, variety of practical usage scenarios, sleep modes and way more, the model ensures smooth fleet operations, diverse protection of assets, riders' safety and the excellent value for money for our business partners and customers worldwide.
Given the above, the most common use cases are motorcycle and scooter rental companies, recreational activities and tourism industry, corporate fleets, small-scale water transport, delivery couriers, logistics companies, etc.
The FMB965 tracker is already in stock and is being manufactured by our state-of-the-art assembly lines. Please contact your Account/Sales Manager for more information and be among the first to order the brand-new GPS device from Teltonika Telematics!
LIKE THIS STORY?
Share it with friends!
GOT A QUESTION?
We're here to help!