FMM80A CERTIFIED BY AT&T FOR THE NORTH AMERICA MARKET
#teltonikatelematics, #corporatenews, #certification, #products
October 31, 2023
We are glad to announce that Teltonika Telematics FMM80A GPS tracker has been approved by AT&T, one of the world's leading telecommunications companies. The certificate signifies that our tracking device complies with the high standards set by AT&T, ensuring seamless integration and optimal performance within AT&T network infrastructure.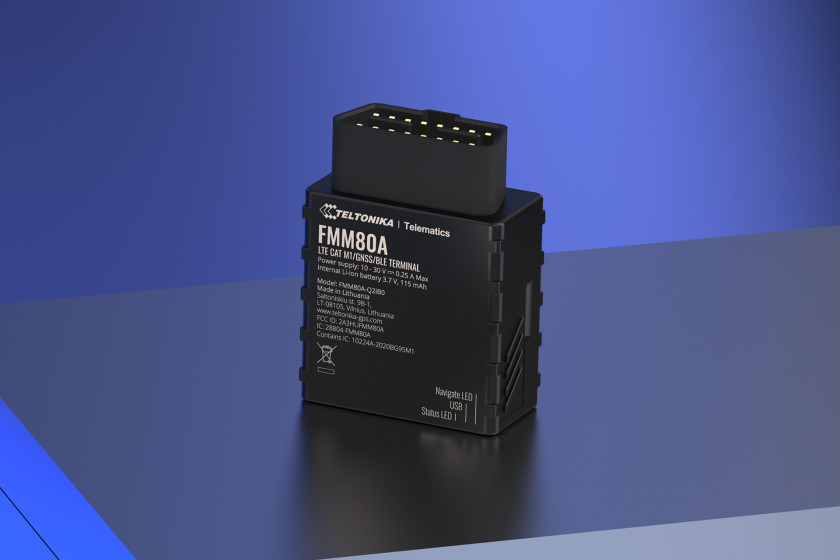 The new certificate serves as compelling evidence of FMM80A tracker's full compatibility with AT&T network. With this model, which was designed specifically for the North America region, our business partners can experience consistent and reliable connectivity. It is an ideal choice for various applications, ranging from personal tracking to fleet management.
Supporting 4G LTE Cat M1 global network, FMM80A offers accurate tracking capabilities and many valuable features to use in different industries. Besides, the device can be easily installed by simply plugging it into a vehicle's OBD-II port virtually by anyone. This way, installation costs and time can be efficiently saved as there is no need for additional tools or specific knowledge.
CERTIFICATES ENSURING QUALITY AND SAFETY
In addition to AT&T certification, FMM80A tracker has already been approved by other renowned regulatory bodies in the North America, including IC (Industry Canada), FCC (Federal Communications Commission), and PTCRB (PCS Type Certification Review Board). These certificates confirm device compliance with industry regulations, ensuring its reliability, performance, and safety.
FCC certification signifies adherence to quality standards and compatibility with mobile networks in the United States. Similarly, IC certification proves compliance with the rigorous wireless communication regulations in Canada. Additionally, PTCRB certification indicates trusted connectivity and conformity with cellular network standards, assuring an outstanding user experience.
The afore-mentioned certifications highlight FMM80A tracker's technical excellence and tailoring to the North America market, making it a perfect option whether you are seeking basic track and trace functionality, optimising fleet operations, or looking for new business opportunities.
For more information and further assistance, please contact your Teltonika Telematics sales manager or our nearest office.
LIKE THIS STORY?
Share it with friends!
GOT A QUESTION?
We're here to help!