RCM AND ANATEL CERTIFICATION UPDATES
#teltonikatelematics, #corporatenews, #products, #certification
November 8, 2023
Excellent news for customers in Australia and Brazil markets - the certification process for RCM and Anatel has been successfully completed for some of our tracking devices. These certifications guarantee that Teltonika vehicle GPS trackers comply with these regulatory requirements and standards.
FMC880 AND FMM880 CERTIFIED BY RCM
The FAST & EASY category FMx880 series of devices are battery-mounted GPS trackers that are easy to install, have an IP65-rated casing and provide accurate tracking. The models have crash detection and crash trace features, allowing full crash reconstruction. Further, these vehicle trackers can be seamlessly integrated into both private passenger cars and light commercial vehicles (LCVs).
That said, both the FMC880 and FMM880 have now been granted the Regulatory Compliance Mark (also known as RCM), indicating compliance with local legislation in Australia. This step ensures that our customers and business partners are using Teltonika products that meet all Australian regulatory standards and cover a wide range of fleet management needs.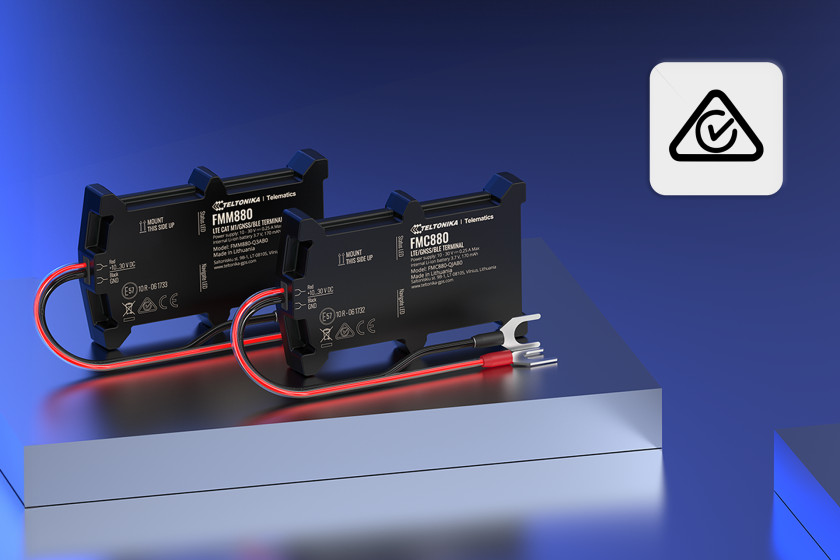 FMC920, FMC130, AND FMC230 CERTIFIED BY ANATEL
Anatel certification indicates that products fully comply with the national telecommunications regulations in Brazil. It means that these devices are safe to use, as they meet all the relevant current requirements and have passed specific tests. Today, we are pleased to announce that tree more GPS trackers in Teltonika Telematics portfolio have received this approval.
The compact and smart BASIC category FMC920 tracker with 4G LTE Cat 1 connectivity is designed for tracking passenger cars, LCVs, motorcycles, etc. Known for its reliability, durability and versatility, it is one of Teltonika most popular products. The model Digital input can be used to monitor the status of ignition, door or alarm buttons, while remote vehicle immobilization can be achieved using its Digital output.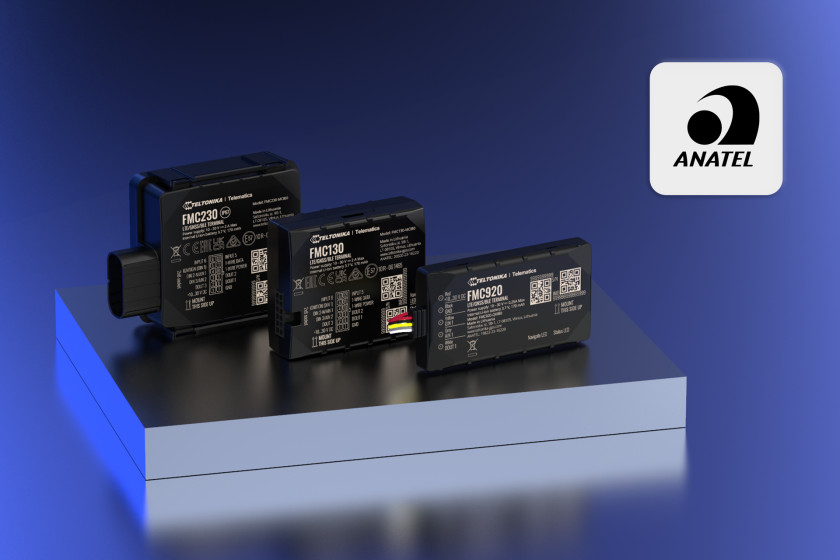 The FMC130, the ADVANCED category vehicle GPS tracker, has flexible inputs and is equipped with internal GNSS, LTE antennas, Bluetooth® connectivity, and a backup battery. When connected to Teltonika CAN adapter, it can read CAN bus data parameters available from a vehicle, for instance, real-time diagnostic information. In addition, when used in conjunction with Teltonika EYE Sensors, it helps to track and monitor items of interest and cargo temperature or humidity. This model is the smart choice for a wide range of fleet management projects.
The FMC230 is a water-resistant 4G LTE Cat 1 tracker with flexible inputs. Featuring an IP67-rated casing for protection against dust and water, it ensures reliable tracking in harsh climates and challenging weather conditions. One of the key features of the FMC230 is its flexible input configuration, along with impulse inputs and CAN adapter support, providing advanced functionality for a variety of applications including agriculture, construction, and mining.
In summary, with Anatel and RCM certifications, we assure our customers of integrating Teltonika Telematics tracking devices into their business operations in Brazil and Australia, giving them confidence and peace of mind. In addition, these GPS devices ensure cost-effective fleet management and competitiveness. For further information or to order samples, please contact your Sales Manager directly or, alternatively, call the Teltonika office in São Paulo, Brazil or Sydney, Australia.
LIKE THIS STORY?
Share it with friends!
GOT A QUESTION?
We're here to help!