TELTONIKA GLOBAL PLAN – BIGGER, BETTER, AT THE SAME PRICE
#teltonikatelematics, #corporatenews, #connectivity
May 10, 2022
We at Teltonika Telematics proudly present the significant improvement within our connectivity solution – the renewed Teltonika Global Plan.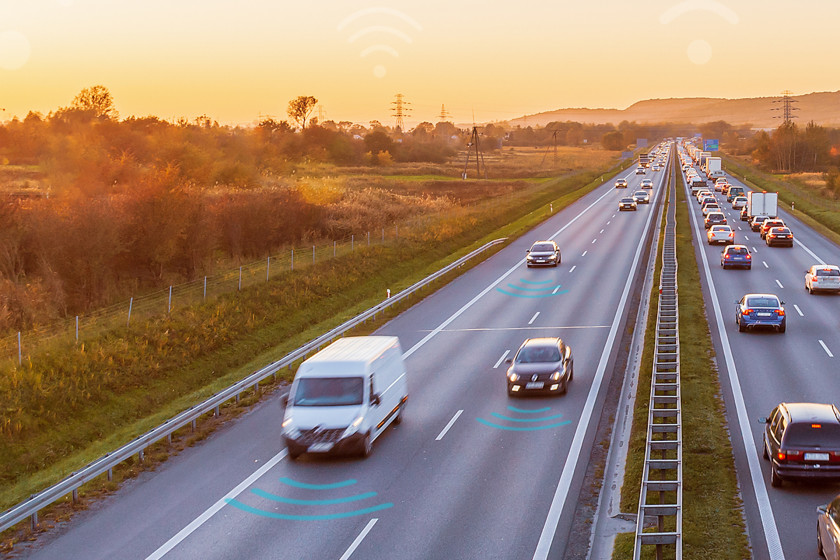 Having the same abundant data allowance of 500 MB, the same plentiful duration – 5 years from the first use, and a vast library of valuable features, the Global Plan coverage area has increased from 110 to 134 world countries and territories. The detailed country list is available here and the general overview of the Global Plan, with noticeable country inclusions, is provided below.
With this update, we have eliminated a number of white spots, mostly in the Americas and Europe, to facilitate global operations without network interruptions. We have opened new long-awaited destinations such as Canada, Brazil*, Kosovo, Turkey*, and more. The renewed Global Plan is already active from 2 May 2022, for all our connectivity users, be it new or existing customers, therefore all Teltonika customers immediately benefit from the new, long-awaited destinations.
Though Global Plan coverage is extended, the price remains the same. This means, that our customers have already got the additional value at no extra cost! Other significant updates concern service quality improvements, IoT Platform performance updates, and SIM card management functionalities.
To conclude, we offer a Teltonika Global Plan with 500 MB for 5 years of connectivity in 134 world countries and territories, with all previously introduced features, active from 2 May 2022, and for the same price.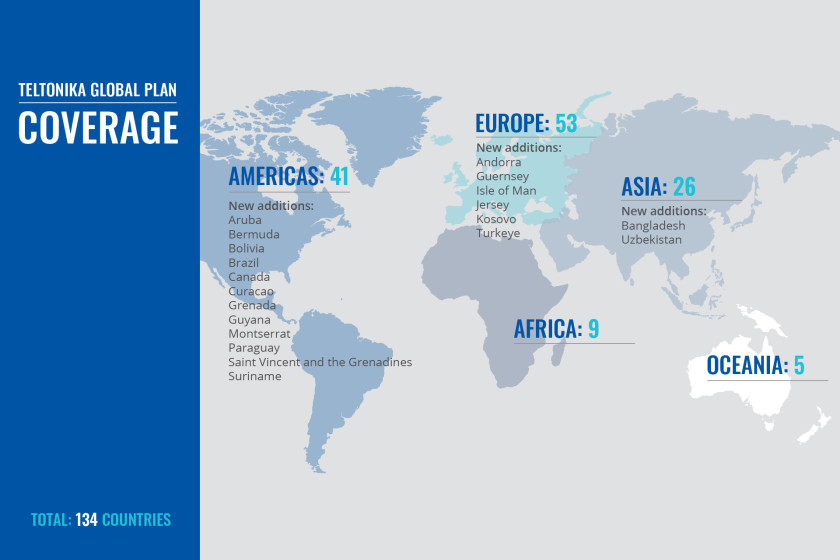 CONNECTIVITY SOLUTION RECAP
Connectivity is the cornerstone of timely wireless data exchange. Without a network connection, Teltonika premium GPS trackers would be almost always offline, impossible to send the vehicle location data, respond to a command or get an update on time.
We are evolving our solution regularly. New handy features are constantly introduced and we have already delivered several innovations for extra value:
Free and Unlimited SMS messages.
Auto Top-Up continuous connectivity.
Dedicated customer support.
SIM card insert and SIM activation on the first use for indefinite storage.
State-of-the-art IoT SIM card management platform and more.
As connectivity opens limitless opportunities for our customers, so Teltonika Connectivity Solution helps solve numerous challenges. For example, Teltonika tracking devices with a Global Plan SIM card greatly complicate the vehicle theft process and can prevent loss or even recover valuable assets. If a vehicle is stolen in one country and trafficked to another, we can trace its route and reclaim it, obviously, if both countries are included in our coverage list.
The Auto Top-Up feature helps to stay always connected as it automatically renews the same data plan under the same conditions when the remaining amount of data has been used up to a specified predefined limit. It is invaluable when dealing with sensitive and time-relevant state-regulated projects (such as e-TOLL in Poland).
The use cases, provided above, are only a part of the practical examples our customers benefit from. The complete list of use cases is located on our website here.
Thus, Teltonika Telematics is one of the few successful companies, which can equip customers with the complete solution, consisting of roamingless SIM cards, a custom-made IoT Platform, vehicle GPS trackers, accessories, and five-star customer support. Remember – get all of this just in one call.
For additional information and further connectivity orders, please contact your appointed Teltonika Telematics Sales Manager, and stay tuned for future updates.
GOSTOU DESTA HISTÓRIA?
Compartilhe com seus amigos!
TEM UMA QUESTÃO?
Nós estamos aqui para ajudar!