INTRO
Logistics companies face many challenges when it comes to tracking their assets in remote and hard-to-reach areas. Traditional communications networks may not provide coverage, leaving logistics managers with limited visibility of the location and status of their fleet. To address this issue, Teltonika Telematics has partnered with Iridium Communications to develop a sophisticated fleet-tracking solution.
CHALLENGE
One of the biggest challenges in remote and hard-to-reach areas is the lack of infrastructure to support reliable communications networks, which affects both developed and developing countries. The quality of connectivity declines on the outskirts of cities, especially in rugged terrain where hills and mountains impede signal transmission.
Large areas without mobile coverage can be found all over the world, including African deserts, Australian plains and South American jungles. In some cases, with the focus on 4G and 5G networks, 2G tower maintenance is often neglected until the towers finally fail, creating significant connectivity gaps due to the lack of a mobile network.
The connectivity concerns mentioned above pose a number of challenges around the world. In remote border regions, commercial vehicles without connectivity are vulnerable to bandits and theft, to say at least. Lack of communication prevents drivers from contacting emergency services in the event of an incident, putting not only valuable cargo and business assets at risk but also the health or even the lives of drivers.
Non-cellular communication can quickly become expensive when transmitting large amounts of data, and only the most important information should be provided to the fleet manager. However, it becomes difficult to determine exactly what is happening with the vehicle or driver and to keep the amount and cost of the information under control. Fortunately, Teltonika Telematics can provide an effective solution to all of these challenges.

SOLUTION
To address and overcome these challenges, Teltonika Telematics has partnered with Iridium Communications to create an Iridium Connected® Telematics Solution that uses Iridium truly global satellite network for reliable, real-time tracking even the most remote locations. It is a combination of the Teltonika PROFESSIONAL series FMx6 tracker and the Iridium Edge® satellite modem. As a result, logistics managers can gain greater visibility and control over their assets, helping to improve operational efficiency and reduce costs.
As an example, we choose the FMC650 vehicle GPS tracker. It is a highly reliable device designed to provide tracking and communication capabilities in challenging environments. Its GPS/GNSS technology and ability to selectively connect to Iridium global satellite network and cellular networks ensure real-time asset monitoring. With two RS232 ports, logistics companies can connect other equipment and sensors to the device, allowing improved monitoring of asset performance by collecting data such as temperature and fuel levels.
How it works – the FMC650 can be installed on a wide range of fleet assets, providing accurate location data, fuel consumption, and critical driver behaviour information. Smart features, such as driver identification, driver behaviour monitoring and tamper detection help logistics companies monitor driver performance and prevent damage to assets.
Additional accessories, such as Iridium Edge can be used to extend the communication range of the FMC650 vehicle tracker. The primary goal of an Iridium Connected Telematics solution is to provide uninterrupted connectivity regardless of location or terrain. Although more expensive than cellular networks, Iridium is often used as a backup communications option in remote or emergencies where cellular connectivity is not available. Iridium is committed to maintaining seamless connectivity to ensure its customers' operations run smoothly and without delay.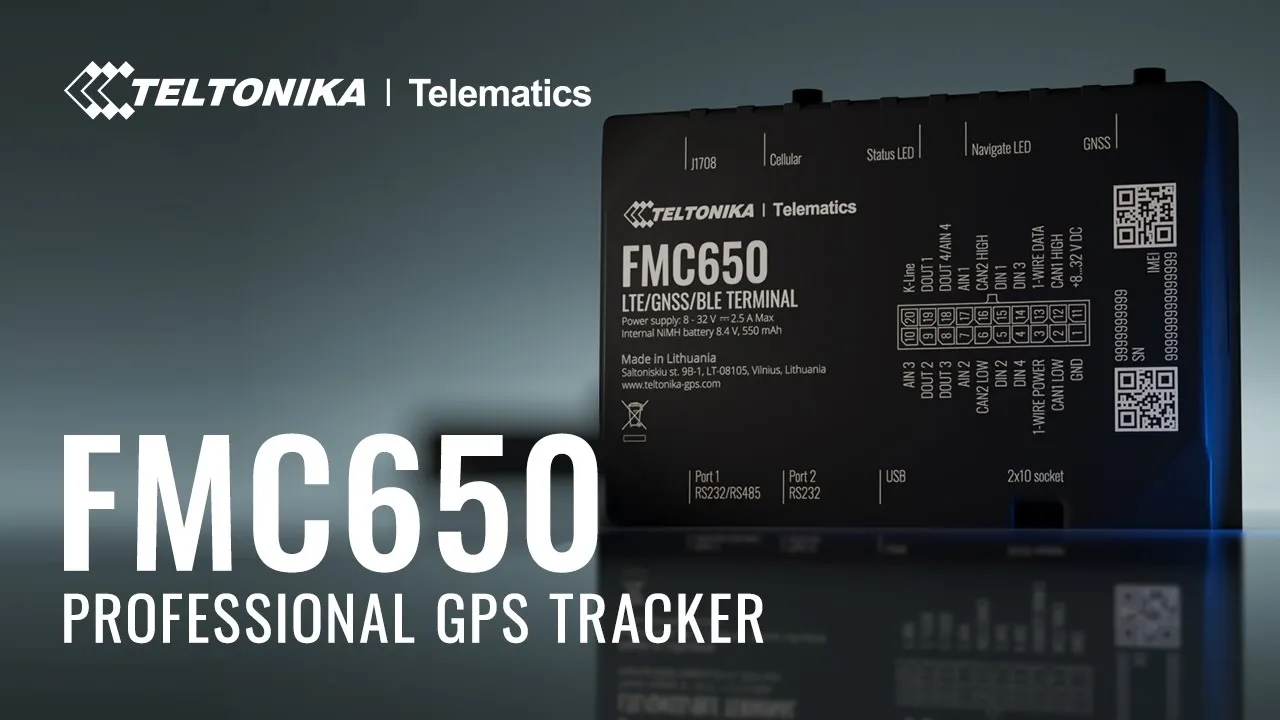 To keep the cost of Iridium connectivity as low as possible, the essential Iridium Short Burst Data® (SBD®) packet only contains information about the device location, speed, DIN and DOUT status. Taking Iridium connectivity to the next level, the FMC650 has 4 DOUTs, each of which can be assigned to a different accessory such as a door sensor, panic button, trailer door sensor, ignition, etc. This allows the fleet manager to know exactly what triggered the SBD packet sent to the server.
Going further, the FMC650 DOUTs can be triggered by different basic features, such as Overspeeding, Jamming, Green driving etc., and also by Custom scenario, which can meet the most demanding customer requirements and display the largest amount of information in a single DOUT status message. For example, instead of sending external voltage/analogue input/iButton information over Iridium, these I/O elements can trigger a DOUT state change under certain conditions and be transmitted as a single bit, keeping the solution cost low.
If more specific information is required via SBD, a special development can be created on the FMC650, for example, sending Crash Detection Axis information via SBD or other features to suit your needs.
To sum up, Teltonika Telematics solution with the FMx6 series devices and Iridium connectivity provides fleet managers with continuous tracking visibility, improved communication, risk mitigation, and regulatory compliance. By using these solutions, fleets can operate more efficiently, reduce costs and improve overall fleet performance.
TOPOLOGY
BENEFITS 
Unmatched global coverage - the combination of the Teltonika PROFESSIONAL trackers and the Iridium Edge satellite modem ensure seamless coverage across the globe. No matter where a fleet is located, even in the most remote areas, the people in charge can stay connected and monitor vehicles in real time.
Reliable data transmission - Teltonika FMx6 series GPS trackers provide cellular connectivity, while the Iridium Edge extends their functionality to areas without cellular coverage. This dual-mode connectivity ensures reliable data transmission, preventing any disruption to your fleet management operations.
Improved fleet efficiency and safety - the solution provides exceptional connectivity for vehicles and teams operating in remote locations. It also improves safety by providing instant updates on any issues a fleet may be experiencing.
Cost-effective solution - the Iridium Edge only transmits data over the Iridium satellite network when other terrestrial networks are unavailable. This selective data transmission makes it a practical and cost-effective solution for logistics companies operating in remote areas.
Satellite connectivity on-demand - the solution allows satellite connectivity to be used when the cellular network is unavailable. This ensures that you always have a backup communications channel, which is particularly beneficial in remote areas where cellular coverage may be sporadic or non-existent.
Industrial standard connection - the solution uses the RS232 industrial standard for connecting GPS trackers, ensuring compatibility, and easy integration with existing systems and equipment.
WHY TELTONIKA? 
Harnessing the power of Teltonika PROFESSIONAL category vehicle GPS trackers with Iridium Edge is a game changer for logistics companies. It allows transport companies to maintain connectivity, improve efficiency and ensure the safety of their fleet, regardless of geographical boundaries. It takes fleet management capabilities to the next level with this innovative solution.
Teltonika Telematics offers a wide range of logistics fleet tracking hardware and software solutions designed to provide full mobile connectivity with global satellite network fallback and cellular connectivity. They are built on robust and scalable platforms that provide transport companies with real-time tracking, monitoring, and control of their assets, even in the most remote and challenging environments. We are a trusted business partner for many logistics companies around the world looking to optimise their operations, reduce costs and improve safety in remote and challenging environments.
LIKE THIS STORY?
Share it with friends!
GOT A QUESTION?
We're here to help!
Reliable global coverage and separate GNSS module
Reliable 4G connection with fallback 2G network ensures wide-ranging coverage for your fleet management needs. FMC650 uses a separate module to gather GNSS data and has dual-channel, L1 + L5 support.
Remote download of Tachograph files and live data
Tachograph live data reading via K-Line, ALL-CAN, Tacho CAN or FMS connections for everyday driver management and fleet efficiency
CAN data reading from heavy vehicles and special machinery
Read J1939 data that includes standard CAN FMS from heavy vehicles like trucks and raw J1939 data from special machinery, such as construction cranes or electric buses. Possibility to connect to CAN line with multiple nodes.
Connecting external devices
2x RS232 and 1x RS485 serial communication interfaces for connecting external devices, such as thermographs, sensors, RFID readers and more