EYE BEACON AND EYE SENSOR – NEW TELTONIKA BLE ACCESSORIES
#teltonikatelematics, #corporatenews, #product
October 20, 2021
Regardless of the considerable challenges and uncertainty in most countries throughout the world, Teltonika Telematics persistently keeps focusing on innovation and continues offering new solutions to our customers and business partners. Today we are especially proud to announce the launch of two brand-new Bluetooth® LE connectivity-based accessories - Teltonika EYE Beacon and Teltonika EYE Sensor.
MADE TO DIVERSIFY YOUR BUSINESS AND BRING VALUE
As they both connect to vehicle trackers wirelessly, which assures installation speed, simplicity, flexibility of solutions, and noticeable cost-efficiency, to say at least. The EYE Beacon, the ID radio signal transmitter, is designed to track the location of items of interest. Meanwhile, the EYE Sensor allows tracking not only location but also multiple parameters such as item temperature, humidity, acceleration and changes in magnetic field strength.
Hand tools, valuable equipment, consumables, machinery, cold chain logistics cargo, delivery goods (for example, parcels, packets, boxes, pallets, containers, barrels, etc.), all sorts of trailers and tanks, countless indoor items, door opening/closing events and so on can be wirelessly tracked and monitored in real-time.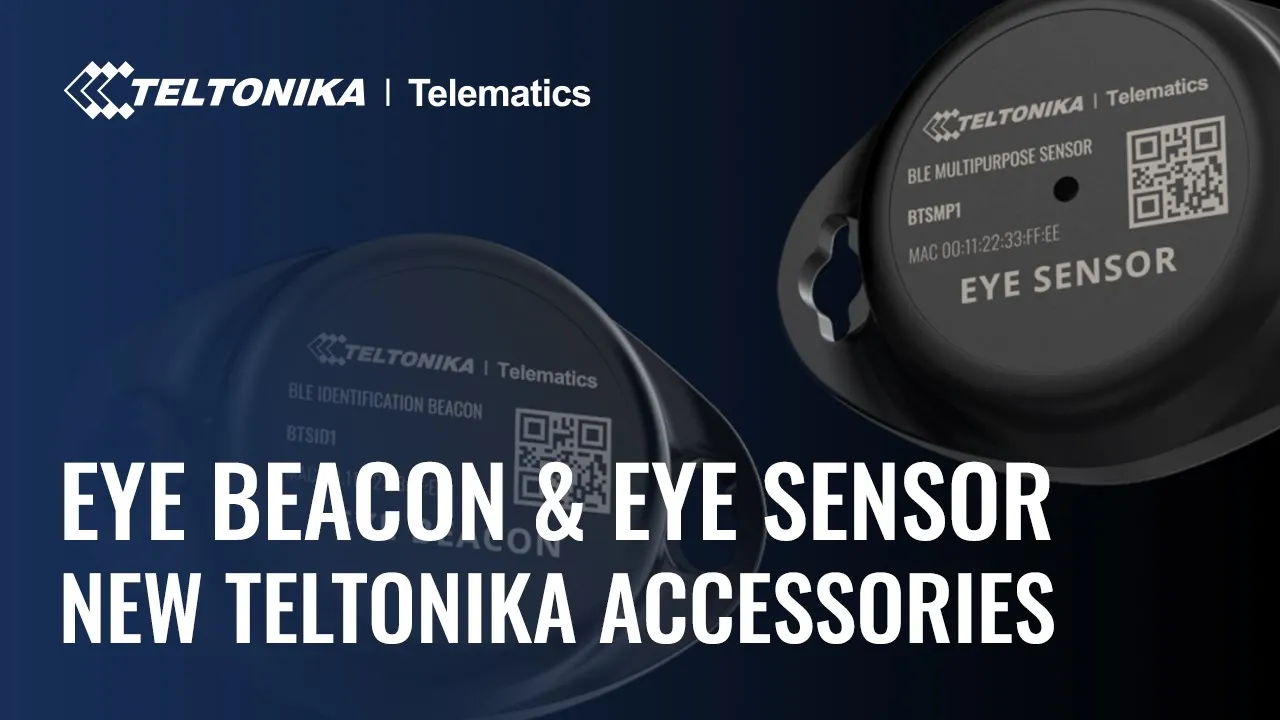 The tracked data of interest is conveniently accessible via PC, laptop or smartphone. Supported vehicle GPS trackers – all FMB platform Teltonika devices with Bluetooth® connectivity. Such versatility helps to make your business responsive to continued market changes, allows you to diversify and expand your projects, improve competitiveness and income streams.
UNIQUE SMART FEATURES TO STAND OUT
To bring maximum value, these models have two novel and handy FMB firmware features unique only to them - 'Proximity Event' and 'Detection By Filters'. Ultimately, these smart event scenarios help to sort, monitor, manage, and optimise operations of a wide array of use cases with remarkable efficiency. To ensure versatility and convenience, we have implemented Eddystone, iBeacon, and Custom data protocols to suit the applications you need. They are designed for a low-cost prompt and easy configuration and integration via an intuitive mobile application (Android or iOS) to save precious time, company resources, and improve project profitability. So, we invite you to discover the latest BLE devices with compact, robust and waterproof casing, as well as long lifespan battery and unique feature sets.
READY FOR YOU
Both models, EYE Beacon and EYE Sensor, are in stock already and are being manufactured at full power by our state-of-the-art assembly lines. Please contact your Account/Sales Manager for more information and be among the first to place the order for the Teltonika brand-new devices! Click a button below to learn more about…
LIKE THIS STORY?
Share it with friends!
GOT A QUESTION?
We're here to help!