NEW PLUG & PLAY TRACKER FOR NORTH AMERICA – FMM80A
#teltonikatelematics, #corporatenews, #product
May 9, 2023
Teltonika Telematics, a leading manufacturer and provider of GPS tracking solutions, is proud to announce the launch of its latest product – FMM80A. This vehicle tracker is specifically designed for the USA and Canada markets and will come with local certifications, such as FCC, IC, PTCRB, and AT&T.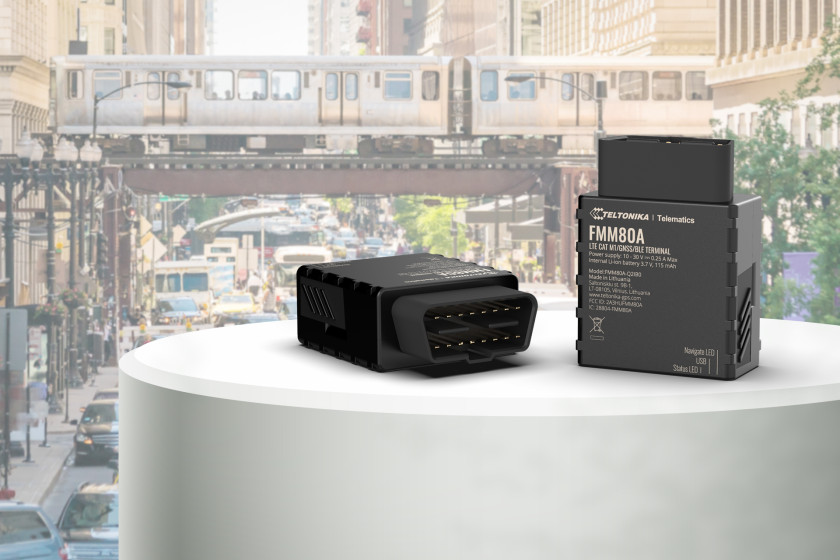 FMM80A is a GPS tracking device that offers a range of benefits to customers and business partners. It supports 4G LTE Cat M1 and NB IoT networks for fast and reliable communication with the server. It also has Bluetooth® connectivity for accessing data from a vehicle.
One of the key features of FMM80A is its accurate tracking capabilities. The device supports GNSS satellite systems for precise real-time vehicle tracking. This makes it a perfect solution for fleet management.
Another advantage of FMM80A is its ease of installation. The device can be easily installed by simply plugging it into the vehicle OBD-II port, without the need for additional tools or specific knowledge. Installation is therefore completely free. This tracker model does not read CAN bus data but is perfect for simple tracking applications.
PACKED WITH HANDY FEATURES
FMM80A is also packed with robust features, such as real-time tracking, geofencing, speeding and towing detection. It also has a built-in accelerometer to detect harsh driving conditions. In further detail, the device can be paired with various accessories, such as temperature sensors, door sensors, and fuel level sensors to monitor additional vehicle parameters.
"We are excited to introduce FMM80A to our customers in the USA and Canada markets," said Mantas Stalnionis, Telematics Sales Director for the US and Canada. "This device is a testament to our commitment to innovation and customer satisfaction. We believe that FMM80A will meet the needs of our customers by helping them to improve business operations and increase efficiency".
FMM80A is now available for testing and our customers are welcome to contact Teltonika Telematics sales team or our office in Toronto, Canada for more information and/or to order samples.
LIKE THIS STORY?
Share it with friends!
GOT A QUESTION?
We're here to help!