TELTONIKA WEBINAR - UPDATED FOTA WEB. DISCOVER THE NEW UI
#teltonikatelematics, #corporatenews, #webinar
June 16, 2023
Being a telematics service provider (TSP) means working with an inventory of devices, huge amounts of data, and multiple projects at the same time. Managing time and company resources may become a challenge. To increase the efficiency of operations, the TSP should have a device management platform with both advanced features and a user-friendly interface. The FOTA WEB now meets this high standard with a perfected user interface.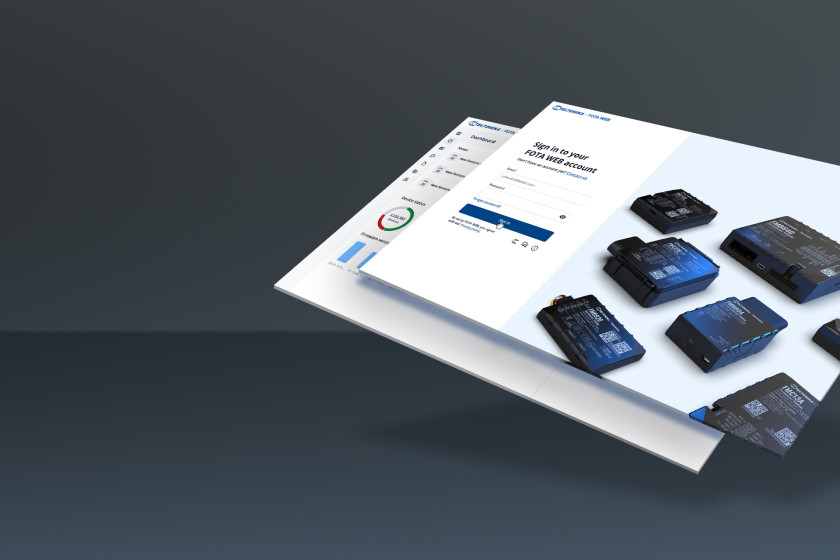 Join our upcoming webinar UPDATED FOTA WEB. DISCOVER THE NEW UI and explore the improved device management platform from Teltonika Telematics. We will guide you through the advanced features wrapped in a new design. We will explore the updated navigation, data grouping and filtering, and coloured statuses for devices and tasks, not to mention the many quality of life improvements implemented throughout the interface.
We will also introduce the 'Company selector' functionality. From now on, our users will be able to easily select one or more companies to focus on. Once selected, FOTA WEB will display only the information related to the company's TSP. This approach ensures that the data our users see is relevant and avoids any possible distraction. All our users have to do to switch between telematics projects is to change the companies selected.
To learn more about the ways to benefit from updated FOTA WEB UI, register for our live webinar and Q&A session. We will answer your questions and provide insights into the latest developments. To do so, enter your details below to gain access on the scheduled day.
AGENDA
New FOTA WEB design presentation – we will guide you through the interface highlighting the key features and their value for your business.
Important changes in the data display – we will draw the attention of our experienced users to the new layouts.
'Company selector' functionality – we will present a new way of focusing on particular projects and customers.
Live Q&A session – we will answer all your questions.
SPEAKERS
Kseniya Dolia, Project Development Manager at Teltonika Telematics.
Aliaksandr Buslo, Project Coordinator at Teltonika Telematics.
Date and time – 21 June 2023, 2 PM (GMT +3).
Duration – 45 min.
Language – English.
After successful registration, we will send you a webinar confirmation letter to your email account. See you soon online!
LIKE THIS STORY?
Share it with friends!
GOT A QUESTION?
We're here to help!