PLUG INTO THE FUTURE OF 4G WITH NEW FMC800 & FMM800
#teltonikatelematics, #corporatenews, #product
January 10, 2023
It is exciting to announce the launch of two Plug & Play type Teltonika vehicle trackers with 4G LTE connectivity - FMC800 and FMM800 models. They belong to the FAST & EASY category, are affordable, simple-to-install and use devices with basic tracking features, Bluetooth connectivity and are perfectly suitable for the global B2C market.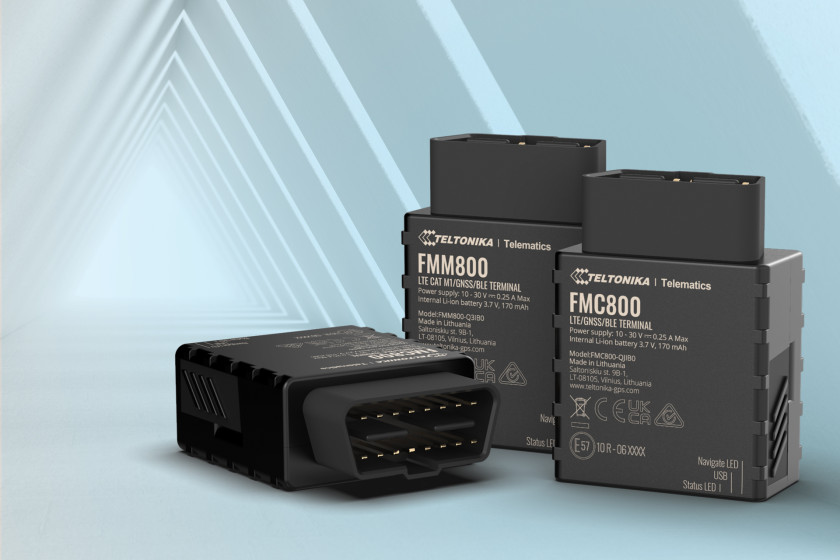 Years of experience in IoT innovation, technology development and re-design have shown that the possibilities are almost limitless, virtually infinite (∞). This concept leads to success in the development of new products that give the privilege of offering devices with professional support, marketability, and reputational assurance.
NEW MARKING IDEA
The 8th series devices stand out with their simplicity and appeal of basic tracking. The most significant feature is the ease of installation – any of them can be installed in a few moments using a U-type cable, a cigarette lighter connector or an OBD port. At the same time, they give confidence and control of the upcoming 2G sunset. While this discussion continues, Teltonika Telematics keeps offering a solution to the popular and essential topic. Starting with a legendary model, we continue expanding our portfolio with the new FMx8 series vehicle trackers, two of which are available with 4G LTE connectivity.
PLUG INTO THE FUTURE OF 4G
Both FMC800 and FMM800 are OBD-II Plug & Play vehicle trackers. Apparently, both models can be installed via the OBD-II port, requiring no tools or engineers. Switching from 2G to 4G also only needs a device itself. Yet more, both Teltonika GNSS devices - FMC800 with LTE Cat 1 connectivity and FMM800 with LTE Cat M1 - have a fallback to the 2G network too. This is why reliable vehicle tracking is ensured before, during and after migration.
And these two Teltonika devices can do even more than track vehicles using different networks. A built-in accelerometer ensures accurate crash trace data for its evaluation, evidence, and prompt emergency calls. In addition, each of them can save time and company resources by monitoring driving routes, driver behaviour, setting speed limits, or detecting idling. The latter can noticeably reduce fuel consumption, which increases the efficiency of the fleet and lower its running cost. It can also increase fleet efficiency with external accessories, such as BLE beacons and sensors because of the Bluetooth LE connectivity feature.
THE MARKET SPEAKS FOR ITSELF
Even more, U.S. Environmental Protection Agency has reported that detecting an idling vehicle can save around USD 46,200 per year, which could be even higher due to the rising inflation rate and rising fuel prices. This means that businesses can start saving a considerable amount of money in the few minutes the new models take to install and set up. How fast and easy is that?
To sum up, the new models are 2G shutdown-ready, reliable and ensure hassle-free GPS tracking of private and corporate passenger cars in any region worldwide. To continue reading and learn more about their features, please click one of the buttons below:
LIKE THIS STORY?
Share it with friends!
GOT A QUESTION?
We're here to help!