TELTONIKA TELEMATICS GPS DEVICES IN THE 2022 DAKAR RALLY
#teltonikatelematics, #corporatenews, #dakar
January 21, 2022
At the end of the last year, Teltonika IoT Group has announced the Teltonika Racing team at the 2022 Dakar Rally. Behind the racing car MINI X-Raid wheel – Lithuanian rally champion, racing driver Vaidotas Žala accompanied by experienced Dakar Rally contestant and co-driver Paulo Fiuza.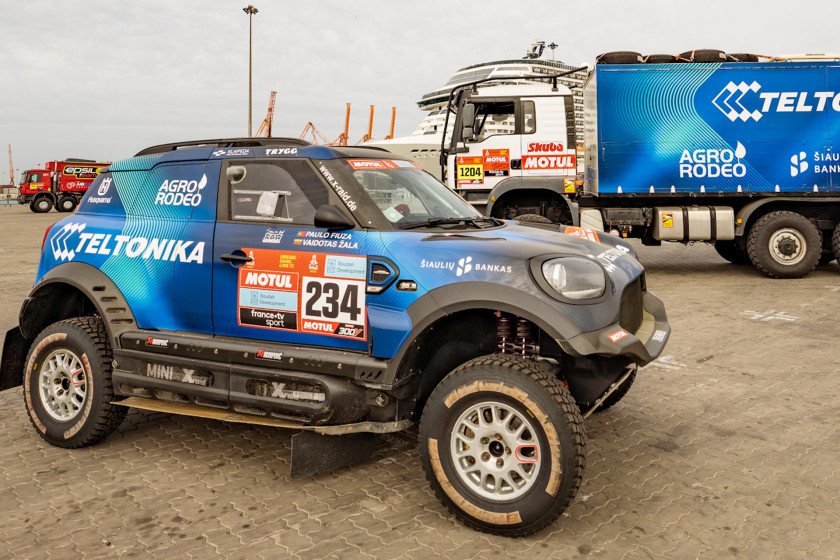 To a certain degree, Dakar Rally is the most challenging race known to motorsport society and fans, with the most unforgiving conditions for any driver, motor, vehicle or IoT device and the ultimate testing ground at the same time. This year it went through canyons and cliffs in the Neom region in Saudi Arabia, passing by the Red Sea coastline, into stretches of dunes surrounding Riyadh, with a lot of actions on the sand in the Empty Quarter desert.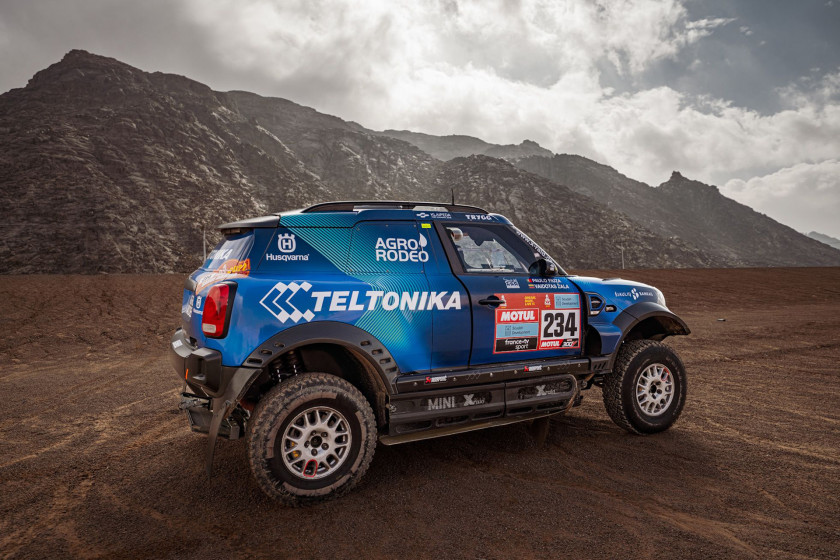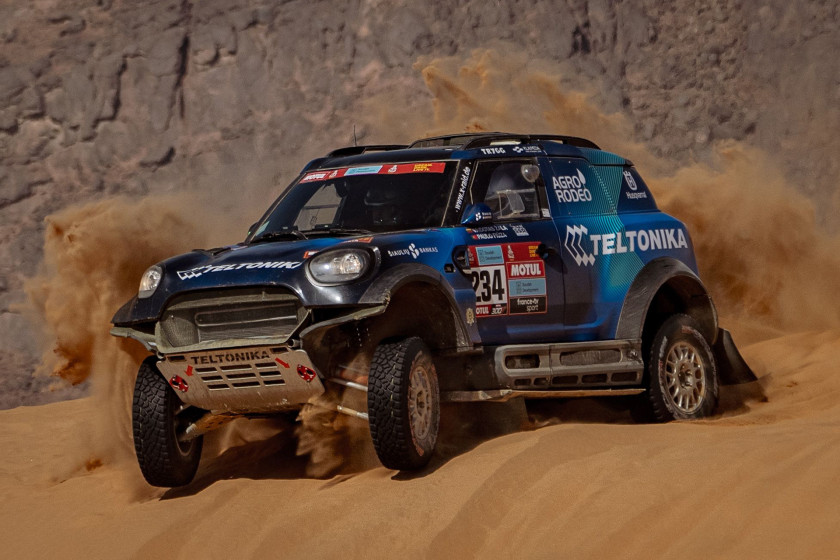 CONTRIBUTING TO THE SUCCESS OF THE RACE
Here at Teltonika Telematics, we are especially proud to have been helpful and to have done everything we could to contribute as much as possible to the race team success. So, how did we do that and make ourselves useful?
Well, our team of IoT solution engineers have mounted on the support lorry taking part in the race the following set of Teltonika GPS devices: the ADVANCED category vehicle GPS tracker FMC130 with 4G (LTE Cat 1) connectivity, CAN Bus adapter LV-CAN200 and wireless Teltonika EYE Beacon and EYE Sensor models. Despite the extreme environmental and driving conditions, they successfully provided continuous and accurate vehicle location, speed, battery voltage, engine temperature, RPM, fuel level and its daily consumption, mileage; in-cabinet and outdoor temperature range and humidity tracked by sensors; even portable generator, halogenated portable lamp, extension cord, toolbox proximity data tracked by ID beacons.
That is why we know for a fact that the MAN TGA support lorry covered 4,210.1 km during the race and consumed 1,381 litres of diesel (or 32.8 l/100 km). This has helped to efficiently plan its refuelling stops and arrange relevant actions accordingly.
The outdoor temperature range was from 5.15 to 49.85 ˚C (average 28.96 ˚C), and the in-cabin temperature ranged from 5.96 to 37.99 ˚C (average 20.69 ˚C). The outdoor humidity ranged from 22.00 to 69.00 % (average 35.86 %), and the in-cabin humidity ranged from 29.00 to 56.00 % (average 43.74 %). Knowing that the ideally suitable for human temperature ranges from 15 to 25 ˚C and the humidity from 30 to 50 %, we are pretty sure that the support crew was driving in a satisfactory in-cabin environment from that standpoint but exposed to more extreme conditions in the open air.
As a result, our devices helped the Teltonika Racing team and crew members with data-driven decision-making, improving race management routines, optimising the use of resources and giving a better chance of winning the race. Please note, we have made no special modifications, adjustments or enhancements for the 2022 Dakar Rally. These are exactly the same Teltonika GPS models that we send to our customers when they place their orders. For more information, see the related use case here.
LIKE THIS STORY?
Share it with friends!
GOT A QUESTION?
We're here to help!