CST APPROVES FMC150 IN THE KINGDOM OF SAUDI ARABIA
#teltonikatelematics, #corporatenews, #certification
March 15, 2023
The choice of Teltonika Telematics devices available for our current and potential clients in the Kingdom of Saudi Arabia is expanding further! We are glad to share the news that CAN data category tracker FMC150 is successfully certified by the country's Communications, Space and Technology Commission (CST), formerly known as CITC.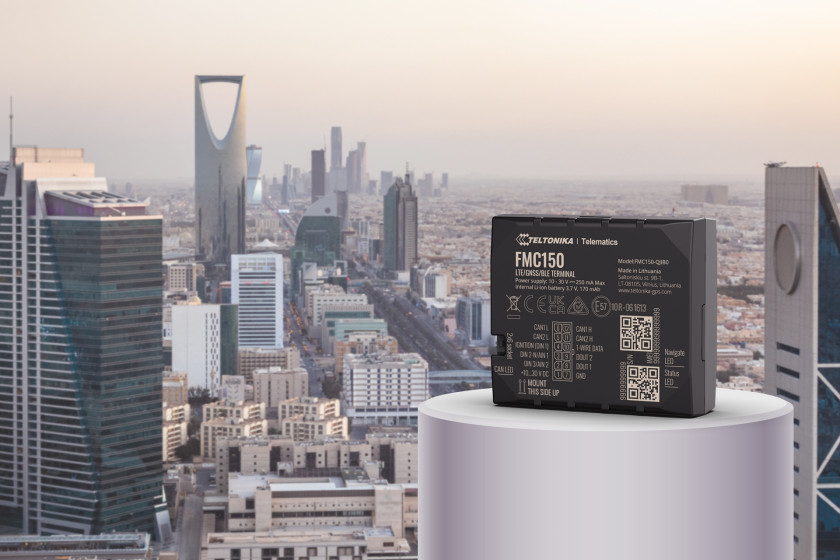 Being in charge of issuing licenses for telecommunications and IT hardware in Saudi Arabia, CST confirms that our products are safe to use and meet all relevant requirements. To meet diverse business needs in the market, there is a wide selection of Teltonika Telematics GPS trackers already approved by CST.
FMC150, an advanced CAN data category GPS tracker with 4G LTE Cat 1 connectivity and fallback to 2G network, ensures your fleet is ready for the future. The device comes with the built-in CAN bus data reading chip to acquire valuable information from light vehicles, EVs, trucks, buses, and special machinery. With this 2-in-1 easy-to-install solution, you will not need any other hardware to obtain the necessary CAN data.
To extend usage opportunities and provide additional value, FMC150 allows reading data from 70+ EVs and 1,500+ vehicle models in total. For the complete list with all current manufacturer models and parameters, please click here.
The device's rich feature set includes various sleep modes, accelerometer, ignition detection, flexible configuration, firmware updates over FOTA, and more. It also supports all the most common scenarios, such as green driving, excessive idling, unplugging, towing, and crash detection. Coming with Bluetooth connectivity, FMC150 is an ideal choice for daily GPS monitoring needs and many other use cases in different sectors, including car rental, emergency services, and delivery services.
LIKE THIS STORY?
Share it with friends!
GOT A QUESTION?
We're here to help!