FMC003 & FMM003 - THE FUTURE OF 4G OBD MARKET
#teltonikatelematics, #corporatenews, #product
August 10, 2022
Since we launched FMB003 a few years ago, we have significantly improved this model. More than 600 vehicles have been added to the supported list which has now 795 in total (as of August 2022).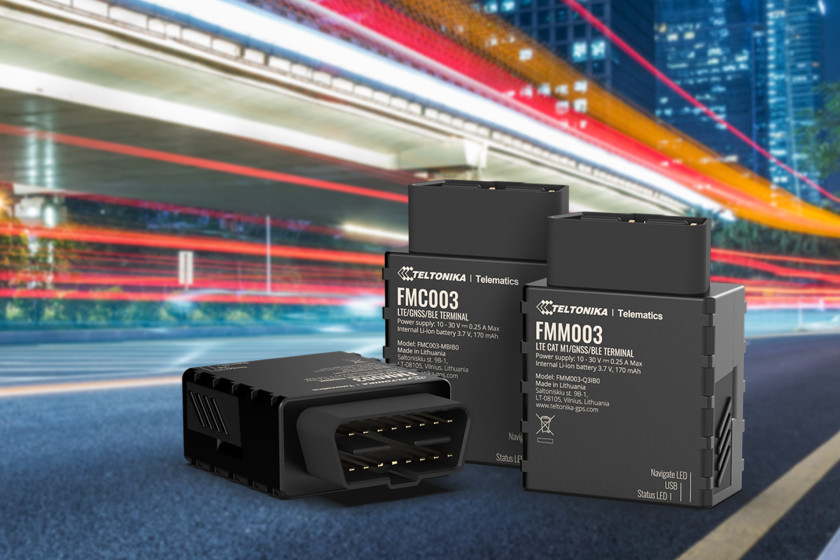 Now we are moving forward and introducing 4G LTE Cat 1 and LTE Cat M1 OBD vehicle GPS trackers – FMC003 and FMM003. We do this to cover more regions and create more business opportunities for our customers and business partners.
THE MARKET SETS TRENDS
Thanks to these two brand-new vehicle GPS trackers, the perspective of the OBD market is looking promising and advantageous. And as far as the future is concerned, it is closely related to the fast-growing market of electric vehicles (EV), which is why we have already added 45 vehicles to our list of supported EVs, and more than 795 vehicles to our overall list.
Be assured that the product quality matters a lot for Teltonika Telematics. That is why our daily mission is to keep adding new vehicles to the list so that we can offer you the most beneficial opportunities in the OBD market.
The main advantage of the new Teltonika GPS devices is the ability to read OEM OBD parameters such as fuel level and odometer. Result? An indispensable opportunity for fleet managers to have instantaneously mounted vehicle trackers and get invaluable fleet data to optimise it.
The latest technology used in these LTE devices means new areas of applications and greater accuracy than ever before. Especially in newly emerging regions, as they are based on 4G LTE Cat 1 and LTE Cat M1 networks and still have a fallback to 2G.
A UNIQUE SET OF BENEFITS
The main features of these newly released OBD devices are:
Cat 1 / Cat M1 network connectivity allows you to be properly ready for the 2G sunset.
Full OEM OBD data reading (Fuel level and Odometer data).
Well prepared for the EV market.
The widest list of supported vehicles in the global market.
Accurate Standard OBD data reading capabilities.
More profitable projects and a competitive edge for your business.
With the new Teltonika OBD models, it has never been easier to have confidence in your provided services. That said, get ready for the 2G sunset - contact your Teltonika Telematics Sales Manager or our office and start using the tracking devices of the future now.
LIKE THIS STORY?
Share it with friends!
GOT A QUESTION?
We're here to help!