FMC003 CERTIFIED BY CST IN THE KINGDOM OF SAUDI ARABIA
#teltonikatelematics, #corporatenews, #certification
February 21, 2023
We have excellent news for our current and potential clients in Saudi Arabia! Teltonika Telematics OBD tracker FMC003 is successfully certified by the country's Communications, Space and Technology Commission (CST), formerly known as CITC.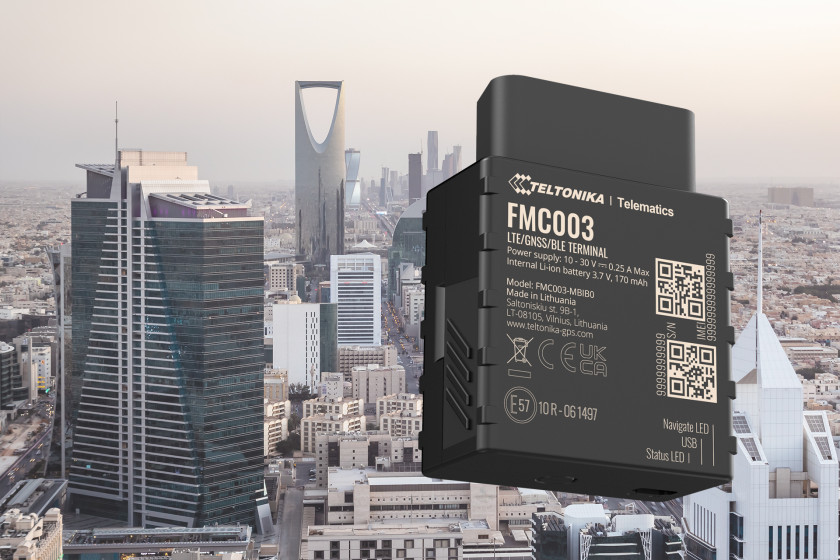 Plug & Play FMC003 model is the latest addition to the wide selection of our tracking devices already available with CST certificate. Particularly easy to install via OBD-II port, this 4G LTE Cat 1 device is designed to read both standard OBD parameters (such as RPM, speed, pedal position, etc.) and OEM data, including real odometer and real fuel level information. OEM parameters are available for regular and electric cars with 1,200+ supported vehicles available in total.
To meet various business needs in the market, FMC003 features all the most frequently used scenarios, including green driving, manual geofence, and detection of overspeeding, jamming, excessive idling, unplug, towing as well as crashes. As Bluetooth® connectivity is supported, our clients can also use beacons and sensors for wireless driver recognition, trailer and temperature tracking. In addition to the already mentioned use cases, this all-in-one OBD solution is also perfect for GPS logbook, insurance, fleet maintenance, pay-as-you-drive, and daily GPS tracking needs.
CST is mandated to license telecommunications and information technology equipment in the Kingdom of Saudi Arabia. The certificate signifies that approved devices are safe to use and conform to the related current requirements. For further questions or orders, please contact your sales manager or the Teltonika office in Dubai, United Arab Emirates.
LIKE THIS STORY?
Share it with friends!
GOT A QUESTION?
We're here to help!