FMC150 APPROVED WITH RCM IN AUSTRALIA
#teltonikatelematics, #corporatenews, #certification
March 29, 2023
Being as close to our business partners as possible and providing outstanding future-proof solutions are Teltonika Telematics ongoing goals. To help our current and potential clients in the Oceania region grow and open more business opportunities, we are glad to announce that CAN data category tracker FMC150 successfully received the Regulatory Compliance Mark (RCM) in Australia.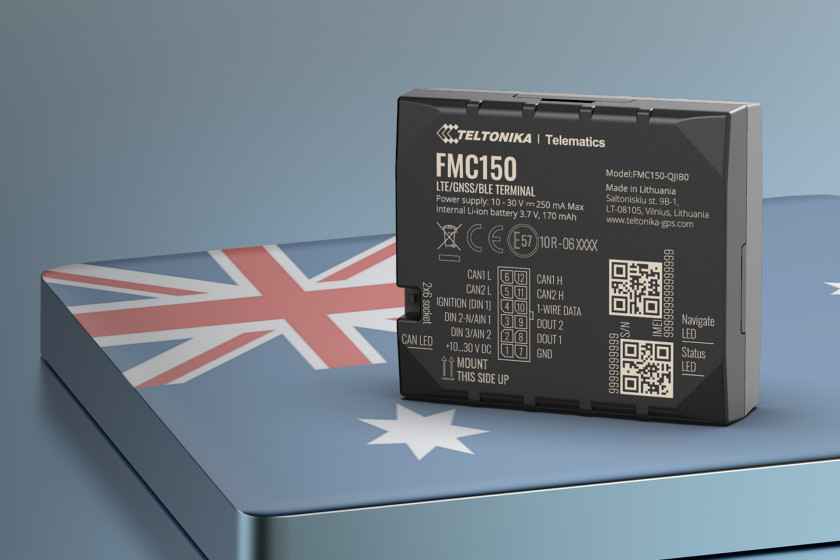 This authorisation demonstrates that our device is certified by the country's regulatory authorities and, thus, fully complies with local legislation. There is already a broad selection of Teltonika Telematics GPS trackers with RCM certificate to meet even the most complex business requirements in the region.
NEW OPPORTUNITIES WITH THE LATEST CAN CATEGORY LAUNCH
In Australia, telematics market no longer operates on 2G network. Even more, three major network providers – Telstra, Vodafone, and Optus – plan to stop offering 3G services in June 2024. Taking that into consideration, FMC150 with 4G LTE Cat 1 network is the best choice to make sure your fleet is future-proof.
Along with the standard hard-wired GPS tracker features, FMC150 offers a significant additional value to fleet operators and integrators. Thanks to its integrated CAN bus data reading chip, the device collects crucial CAN data from EVs, trucks, buses, and specialized vehicles. With this 2-in-1 quick-to-install solution, you will have everything you need to access the necessary information from vehicle CAN lines.
Currently, FMC150 supports 1,500+ different vehicle models, including more than 70 EVs. For your convenience, we have also prepared a complete list of all current manufacturer models with readable parameters available online.
While providing the most commonly required CAN data, such as fuel level, engine speed (RPM), and driven distance, FMC150 is also equipped with Bluetooth® connectivity, which makes it perfect for regular vehicle health monitoring and many other use cases. Business sectors to benefit in their operations most include car rental, logistics, delivery, and emergency services.
LIKE THIS STORY?
Share it with friends!
GOT A QUESTION?
We're here to help!