FMM150 GRANTED WITH RCM IN AUSTRALIA
#teltonikatelematics, #corporatenews, #certification
April 27, 2023
Establishing and maintaining strong relationships with our clients is one of our primary objectives at Teltonika Telematics. To achieve this in the Oceania region, we opened a branch in Sydney in 2021, assembled a team of highly qualified professionals and continue to provide future-proof locally certified solutions for efficient fleet management. Now, we are pleased to announce that FMM150, our CAN data category tracker with 4G LTE Cat M1 connectivity, has obtained the Regulatory Compliance Mark (RCM) in Australia.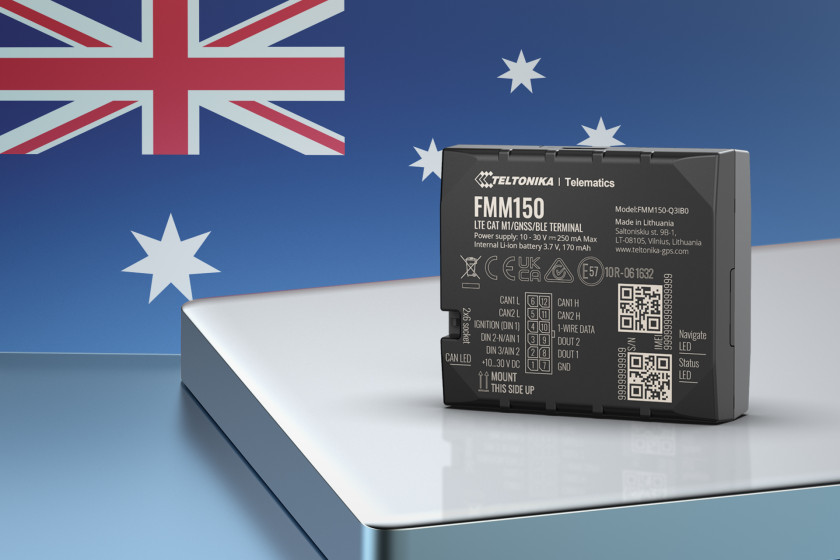 This certification is a testament to the fact that FMM150 is fully compliant with the local legislation. The same applies to the wide range of Teltonika Telematics GPS trackers that have already received RCM certificate before. Our clients can confidently grow their businesses, using high-quality products that both comply with all regulatory standards in Australia and meet even the most complex operational requirements.
YES, YOU "CAN" – DISCOVER NEW POSSIBILITIES WITH OUR LATEST CAN DEVICE
Telematics market in Australia no longer uses 2G network. Moreover, the three major network providers – Telstra, Vodafone, and Optus – are set to discontinue 3G services by June 2024. Thus, it is essential to take actions and make your fleet is future-proof this year.
FMM150 model features 4G LTE Cat M1 network, Bluetooth® connectivity, multiple interfaces, and various scenarios, such as green driving, crash detection, immobilizer, towing detection, etc. What's more, FMM150 offers fleet operators and integrators a significant additional value by coming with an integrated CAN bus data reading chip that gathers CAN data from EVs, trucks, buses, and specialised vehicles. This 2-in-1 quick-to-install solution allows accessing all the necessary information from vehicle CAN lines.
FMM150 is an ideal choice for regular vehicle health monitoring, predictive maintenance, and many other use cases as it provides commonly required CAN data, including fuel level, mileage, engine speed (RPM), and driven distance. Car rental, logistics, delivery, and emergency services are among the business sectors that would benefit most by using this outstanding device in their operations.
FMM150 tracker currently supports over 1,550 different vehicle models, including more than 70 EVs. A complete list of all manufacturer models with readable parameters is available online for your convenience.
In case you have any further questions or would like to order, please contact your sales manager or get in touch with Teltonika office in Sydney, Australia.
LIKE THIS STORY?
Share it with friends!
GOT A QUESTION?
We're here to help!